(Post in french, english version below)
Le mois dernier est sorti mon livre "Dessin et Peinture numérique avec Krita". Il s'agit du premier livre en francais sur ce logiciel. J'espère qu'il contribuera à faire connaitre ce magnifique logiciel libre de dessin à tous les artistes francophones.
Ce livre est disponible en version imprimée couleur, en version numérique téléchargeable sans DRM ou encore en version consultable en ligne, sur le site de l'éditeur D-Booker. Je remercie d'ailleurs mon éditeur pour m'avoir permis d'écrire ce livre.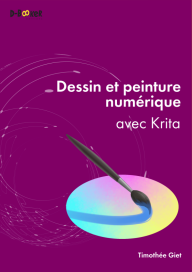 Last month, my book "Dessin et Peinture numérique avec Krita" has been released. It is the first book in french about this software. I hope it will contribute to introduce this wonderful Free Software to all french speaking artists.
This book is available in full-color printed version, as digital download without DRM or as online version, on the website of the publisher D-Booker. By the way, I'd like to thank my publisher who made it possible to write this book.