The Italian PublicCode catalogue on Developers Italia is a searchable database of open source software that is either developed by Italian public institutions, or sourced from third parties, that can be used by Italian public insitutions.
Nowadays, Italian public institutions have to revise the catalogue when seeking software to cover their requirements and, only if there is no option that fits their needs in the catalogue, can they seek a proprietary alternative or develop a new one. And if they develop a new one, it needs to be open source and added to the catalogue.
I first learned about the concept at Akademy 2019, with the keynote by Leonardo Favario who presented the project. Recently, some discussions in the KDE community reminded me about it, and I finally decided to try and include GCompris in this catalogue.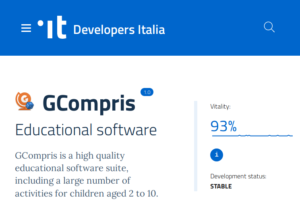 In practice it is very simple to do:
– There is a specification for metadata description, called publiccode.yml.
– A project only needs to add a publiccode.yml file at the root of their source repository, and it will be found by the catalogue's crawler.
– If the file is correct, and contains at least the minimum information required, the software will be added to the catalogue.
Also, the publiccode.yml specification is meant to be international and used by any country. Beside Italy, there are already a few other countries planning to use it.
I see this as a very good achievement, as it can help governments to recognize the relevance of Free and Open Source software for public institutions. Therefore I encourage other projects to support the effort by adding a publiccode.yml file in their source code. That will help promoting all the great solutions we already have in the Free Software ecosystem.
And for other interested KDE projects, please join the conversation on the corresponding Phabricator task, you may find some useful tips.