The last week I was in Milan with my wife Aiswarya to attend Akademy 2019, the yearly event of the KDE community. Once again it was a great experience, with lots of interesting conferences and productive BoF sessions ("Birds of a Feather", a common name for a project meeting during a conference).
On Sunday, we presented our talk "GCompris in Kerala, part 2". First, Aiswarya told some bits of Free-Software history in Kerala, gave examples of how GCompris is used there, and explained her work to localize the new version of GCompris in Malayalam (the language of this Indian state). Then I made a quick report of what happened in GCompris the last 2 years, and talked about the things to come for our next release.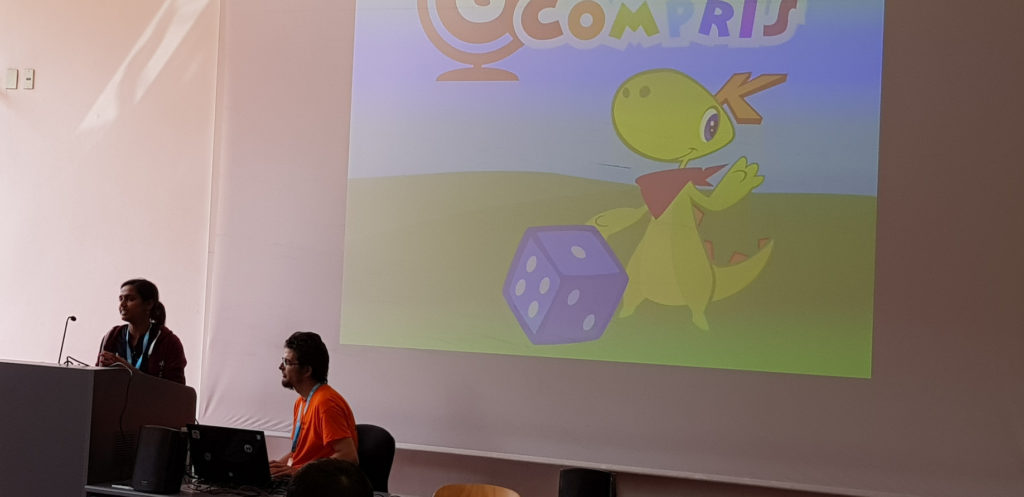 On Monday, I attended the KDE e.V assembly. On a side note, if you are a KDE contributor, you should probably consider joining KDE e.V. as an active member.
On Tuesday morning, we attended the KDE India BoF, where we discussed why the conf.kde.in conference didn't happen for 2 years and how we can make sure it will happen next year.
On Tuesday afternoon, we had the GCompris BoF. We discussed about using the KDE Wiki for our documentation instead of self-hosting our own wiki. We also discussed the state of some translations that need to be updated. On that topic, if your language is not yet supported in the latest version of GCompris, maybe you can help us (you can check the translation status on this page). Also during this session, Aiswarya started working on some new options to adapt the speed in some activities to make them usable for people with cognitive or physical difficulties.
On Wednesday morning, we attended the "Wayland user feedback" BoF. I discussed with the plasma team about the biggest issues for using Krita on Wayland, namely tablet support and color management. The team seemed very interested to fix those, so I'll try to provide useful feedback to help them.
On Wednesday afternoon, it was the "Day trip" to the Lake Como, a great occasion to relax and have fun with old and new friends in a beautiful place.
Congratulations to the team for organizing a great event, and also big thanks to KDE e.V. for providing travel support.