This is a little blog post from India. I've been invited to give not one, but two talks at Swatantra 2017, the triennial conference organised by ICFOSS in Thiruvananthapuram (also known by its shorter old name, Trivandrum), Kerala.
I'll have the pleasure to give a talk about GCompris, and another one about Synfig studio. It's been a long time since I didn't talk about the latter, but since Konstantin Dmitriev and the Morevna team were not available, I'll do my best to represent Synfig there.
(little teaser animation of the event banner, done with Synfig studio)
I'll also meet some friends from Krita, David Revoy and Raghavendra Kamath, so even if there is no talk dedicated to Krita, it should be well represented.
The event will happen the 20th and 21st of December, and my talks will be on the second day. Until then, I'm spending a week visiting and enjoying the south of India.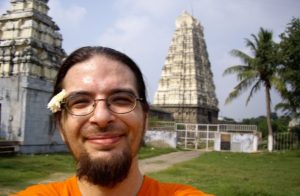 You can find more info on the official website of the event: swatantra.net.in. Many thanks again to the nice organization team at ICFOSS for the invitation !