(Post in french, english version below)
Le mois dernier est sorti la seconde édition de mon livre "Dessin et peinture numérique avec Krita". Je viens juste de recevoir quelques copies, le moment est donc parfait pour en parler rapidement sur mon blog.
J'avais écrit la première édition pour la version 2.9.11 de Krita, il y a bientôt trois ans. Beaucoup de choses ont changées depuis, j'ai donc mis à jour cette seconde édition pour la version 4.1.1, et ajouté quelques notes supplémentaires concernant de nouvelles fonctions.
Aussi, mon éditeur a de nouveau travaillé sur la mise à jour et l'amélioration de la traduction Française de Krita. Merci encore aux éditions D-Booker pour leur contribution 🙂
Vous pouvez commander ce livre directement sur le site de l'éditeur, au format papier ou numérique.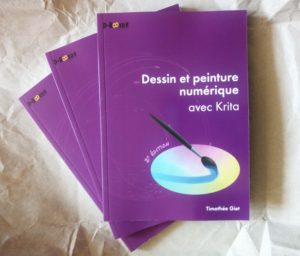 Last month was released the 2nd edition of my book "Dessin et peinture numérique avec Krita". I just received a few copies, so now is time to write a little about it.
I wrote the first edition for Krita 2.9.11, almost three years ago. A lot of things have changed, so I updated this second edition for Krita version 4.1.1, and added a few notes about some new features.
Also, my publisher worked again on updating and improving the french translation of Krita. Thanks again to D-Booker edition for their contribution 🙂
You can order this book directly from the publisher website, printed or digital edition.