Last week, the kickstarter for Lunatics pilot voice+storyboard production has failed (not too far from the goal, almost 75%). The project is still going on, though I won't can do the pilot storyboard animatics, and so they'll use rough sketches from Terry instead. Still I'll try to contribute to it in my spare time.
You can keep supporting this cool Free Culture project with the donation link on the official webpage: http://lunatics.tv/
On another topic, I'm working now on interface design for Krita Sketch, which is the upcoming minimal tablet-optimised version of Krita.
It's still in alpha stage, more news to come soon.
Also I've made a new icon for Krita, based on the squirrel mascot, take a look: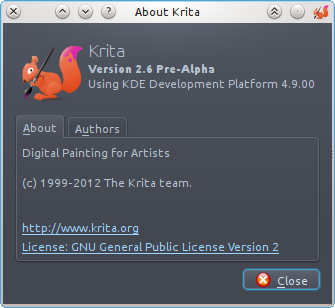 If you build Krita from git master, you should have the new icon already. If it still use the old one when running, make sure to erase the kde icon cache ( rm -rf /var/tmp/kdecache-"user"/icon-cache.kcache ), and also erase the krita.png icons from the oxygen package (here they were in /usr/share/icons/oxygen/16×16/apps , in all folders from 16×16 to 128×128).