This year, for the first time, we had a Krita booth at Siggraph. If you don't know about it, Siggraph is the biggest yearly Animation Festival, which happened this year in Vancouver.
We were four people to hold the booth:
-Boudewijn Rempt (the maintainer of the Krita project)
-Vera Lukman (the original author of our popup-palette)
-Oscar Baechler (a cool Krita and Blender user)
-and me 😉 (spreading the word about Krita training; more about this in a next post…)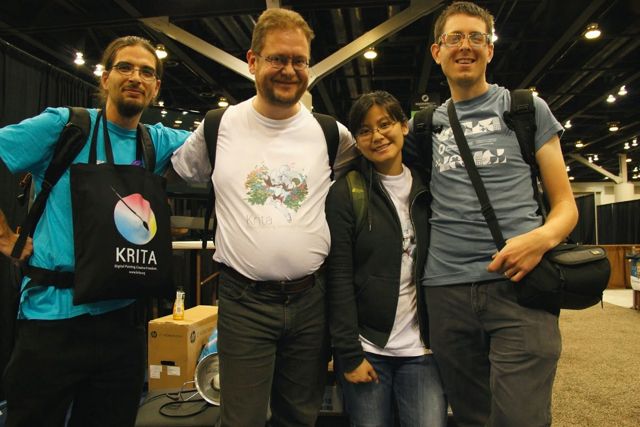 Together with Oscar and Vera, we've been doing live demos of Krita's coolest and most impressive features.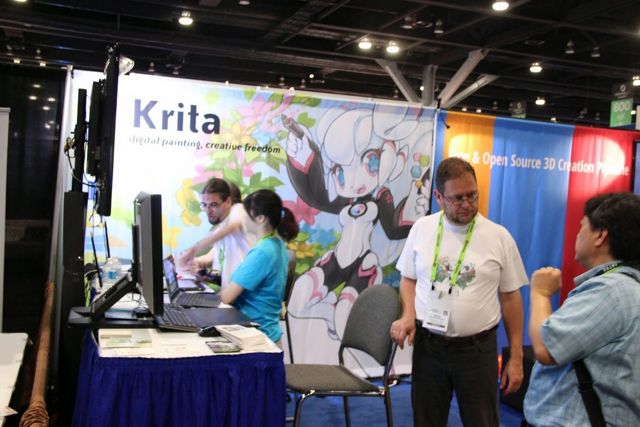 We were right next to the Blender booth, which made a nice free-open-source solution area. It was a good occasion for me to meet more people from the blender team.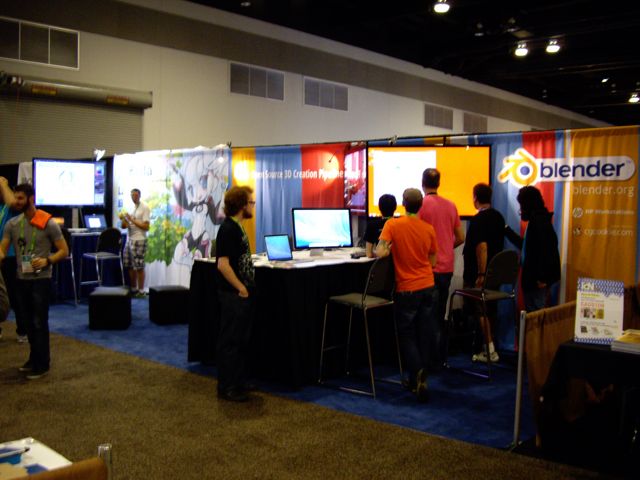 People were all really impressed, from those who discovered Krita for the first time to those who already knew about it or even already used it.
As we already started working hard on integrating Krita for VFX workflow, with support for high-bit-depth painting on OpenEXR files, supporting OpenColorIO color management, and even animation support, it was a good occasion to showcase these features and get appropriate feedback.
Many studios expressed their interest to integrate Krita into their production pipeline, replacing less ideal solutions they are using currently…
And of course we met lots of digital painters like illustrators, concept artists, storyboarders or texture artists who want to use Krita now.
Reaching such kinds of users was really our goal, and I think it was a success.
There was also a bird of feather event with all Open-source projects related to VFX that were present there, which was full of great encounters.
I even could meet the guy who is looking at fixing the OCIO bug that I reported a few days before, that was awesome!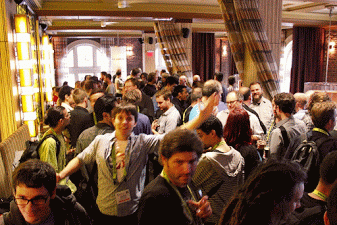 So hopefuly we'll see some great users coming to Krita in the next weeks/months. As usual, stay tuned 😉
*Almost all photos here by Oscar Baechler; much more photos here or here.